The Danish company MONSTRUM builds beautiful, artistic and inspiring playgrounds. I talked to the founder Ole Barslund Nielsen about what makes a good playground and why MONSTRUM playgrounds are so special.

Deutsche Version des Interviews:
"DER SPIELPLATZ SOLLTE KINDER UND ERWACHSENE MAGNETISCH ANZIEHEN"
Mr. Nielsen, do you have a favorite playground?
Nielsen: Every MONSTUM project becomes a darling. But one we are particularly proud of is the Peacock Playground at the shopping mall K11 Musea in Hong Kong. The playground has a great combination of colours, shape and play features, and it was fun to be part of the artistic and ambitious project.
Your playgrounds are so colorful and unique. You might think you are more of an artist than a playground builder. How do you come up with your unusual creations?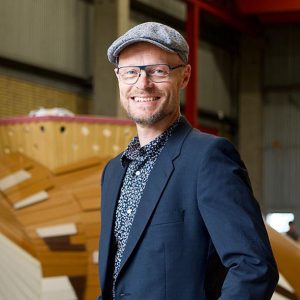 Creating a playground we aim for three equally important qualities with the common target of inspiring kids to move: Artistic value, creating a gathering place and physical challenges.
Every process is different, but we collaborate with our customers and come up with a theme, that fits their wants and needs. We like to make concepts that are well incorporated both visually into the landscape, but also by creating a scene that tells a small story.
Can you give me some examples?
A playground can for example be inspired by the history of the place – like a maritime inspired playground at a town that once was a fishing village.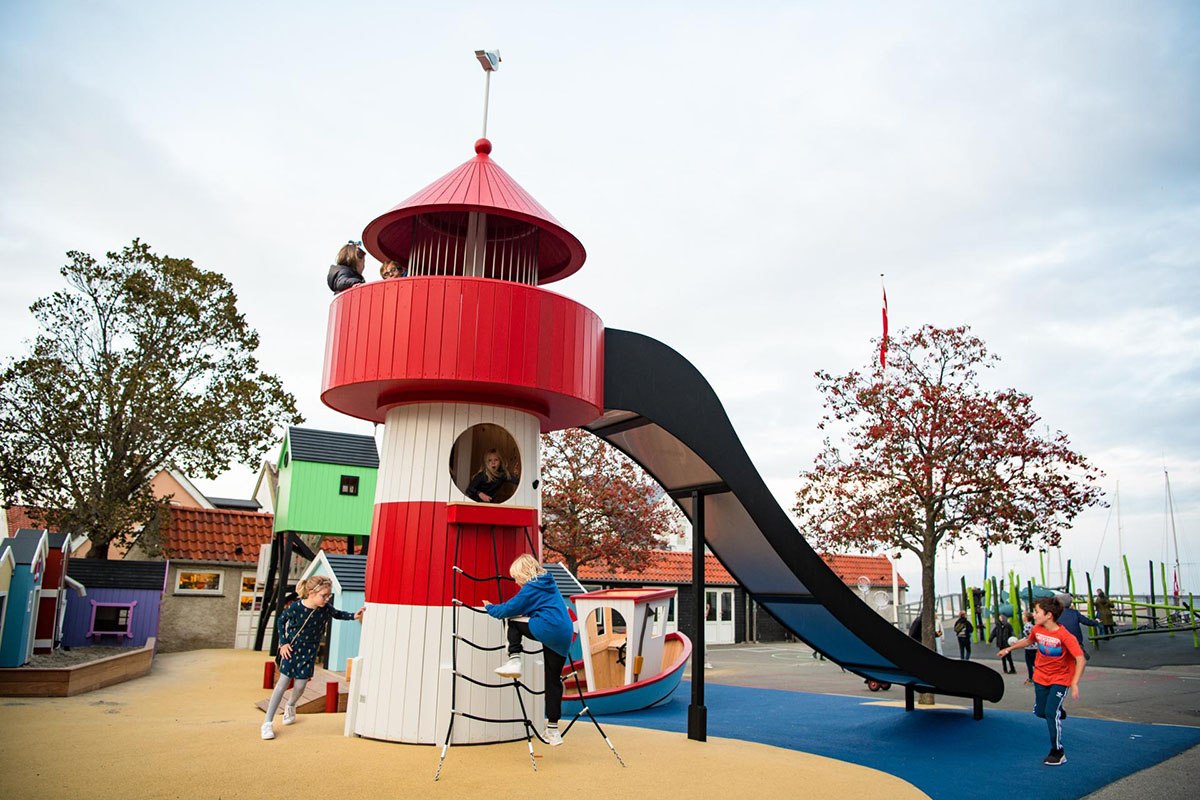 Or it can also be inspired by the company or institution, such as The Globe playground at the main library of Aarhus, Denmark, which was designed to represent the four corners of the world. A symbol of the culture, history, nature and knowledge of the library.
The theme of the playgrounds for LEGO House, was inspired by the LEGO boxes, where there is an exciting setting and scene. For example you can see the LEGO man flying an airplane on a box with a LEGO airplane inside. So the theme became "The Journey to LEGO House" with nine different ways to get to the House.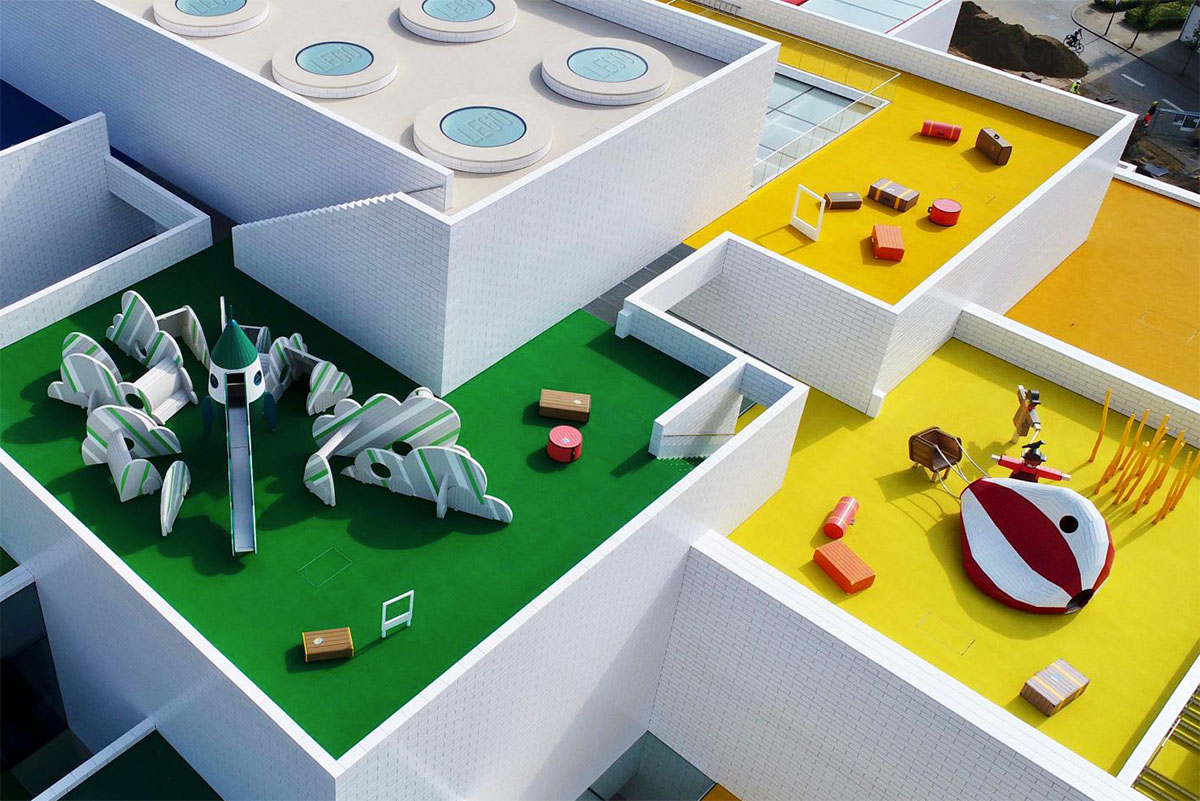 Your playgrounds are not only beautiful, but also of high quality. What do you think makes a good playground?
Good play features obviously! The kids should be able to climb, swing and slide in endless possibilities. We design our playgrounds to be both inspiring to look at and to play in.
A good playground should inspire kids to move. The swing and the rope way are classical playground elements where you can feel the joy and the tickle in your stomach just by looking at it. But what makes a playground great is that kids are not able to figure it out just by looking at it. They have to explore it. When they are running or climbing through the playground there is not only one right way. They have to consider a lot of options and paths, assessing their motor skills and safety. This creates continuous movement and a lot of fun.
How about the durability of your playgrounds?
Our playgrounds are mainly made out of wood. It is a natural material and ages beautifully. But of course you have to maintain it and take care of it and prevent it from tear, as you have to with any other playground. We provide a maintenance manual based on the safety standards including security check points, materials used and colour codes, so it can be repainted. The playgrounds are made of simple materials and are easy to maintain by local craftsmen. All wood used has a natural strength and resistance to weather effects and requires a minimum of maintenance.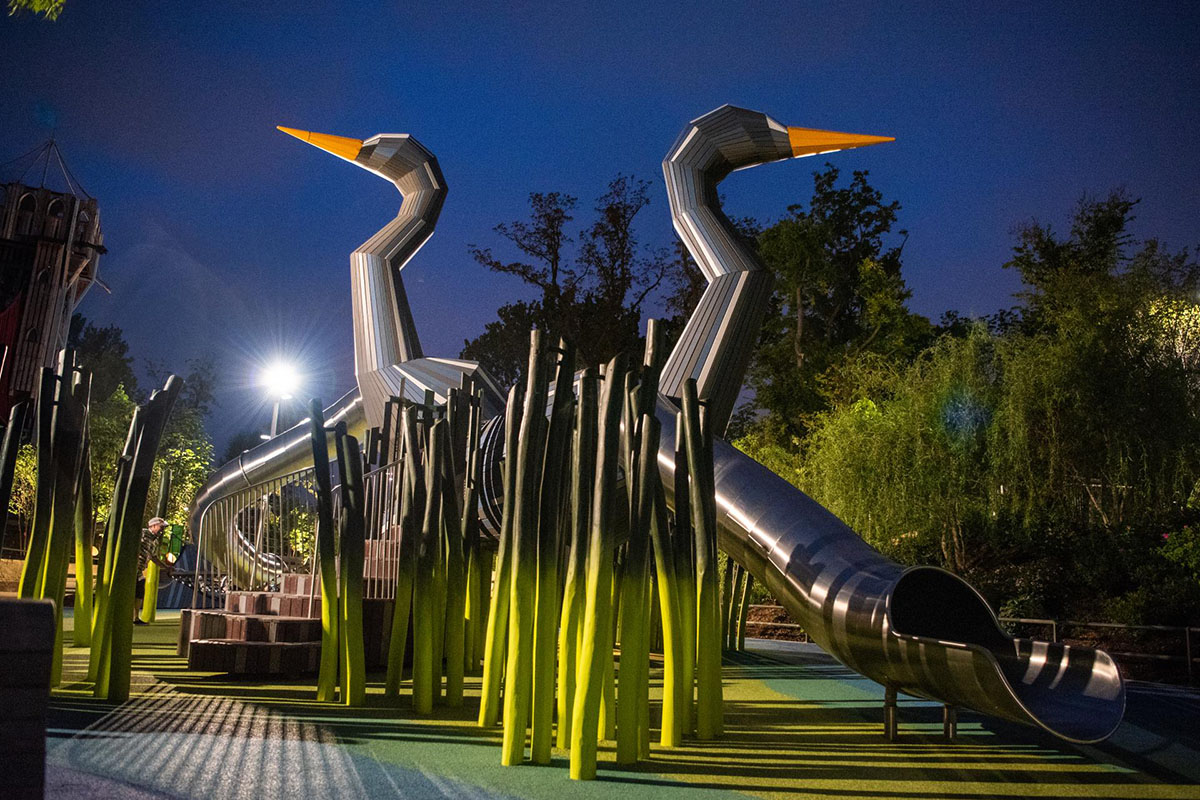 Why are playgrounds so important for children?
A playground can be an essential part of a childhood, inspiring and reflecting the challenges of the physical world. It is a place where you meet new friends and develop your ability to socialize with other kids. And equally important, it is time spend away from the computer getting your pulse up. The playground appearance in the urban landscape has become a valued part of city planning today. We want it to be more than just a playground. We design them to be an icon and a social meeting place in the community. The playground should be a magnet that attracts kids and adults who are walking by.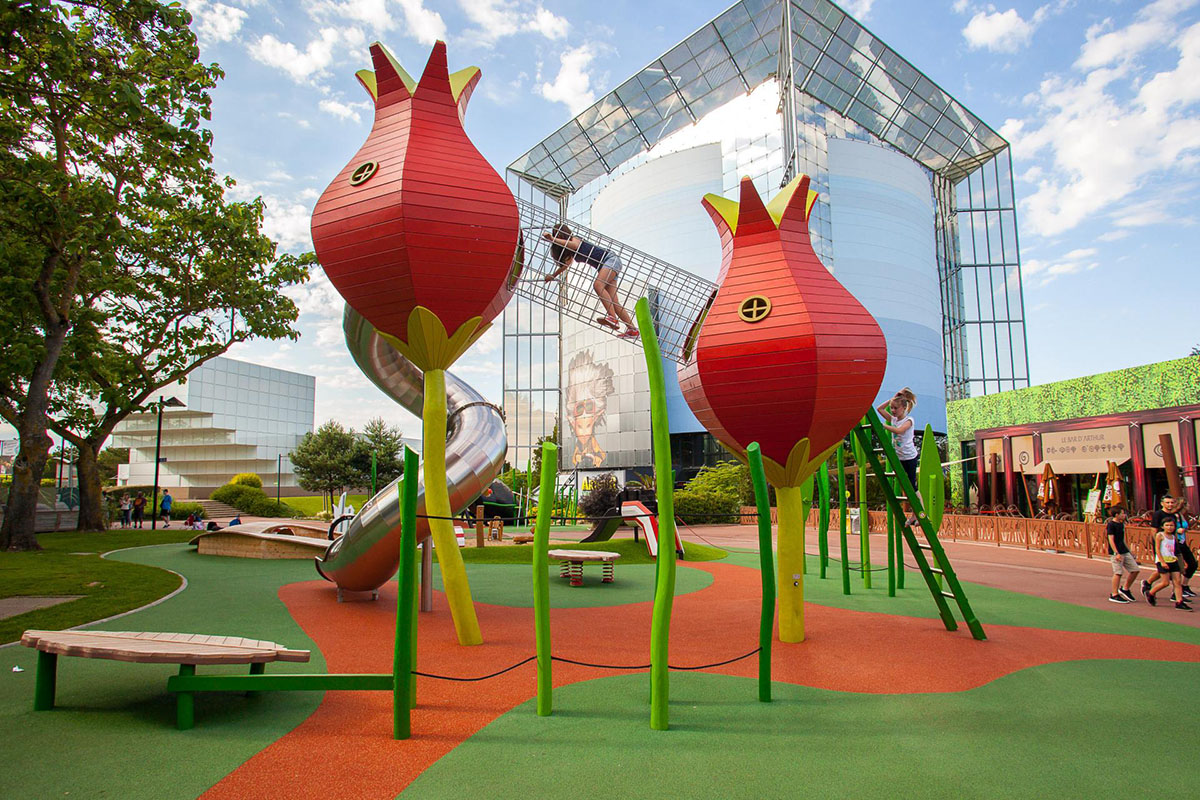 Do children growing up in the colorful digital media world need such extraordinary playgrounds to get excited?
Our kids are privileged and used to being entertained with bright colours and fast paced storytelling. But it is hard to compare the digital world with the physical experience of a playground. It is a very different experience. Using your body to climb and swing, challenging the balance etc. has a big impact on a child and very different than playing a game on your computer. That's why kids will still be interested in playing on playgrounds – It still offers something the digital world doesn't.
Please take a look into the future: What does the playgrounds look like in 50 years?
The focus on urban space is increasing. The parks become more and more a social meeting point for the city, so we expect more interest in creating amazing spaces for both kids and adult. The playground is a great place to connect people across the community. We probably will also see more technology used in regards to playground designs, but our focus will still be on creating inspiring playground set as scenes and build in wood.
Since 2003 you build playgrounds all over the world. When will there be the first one in Germany?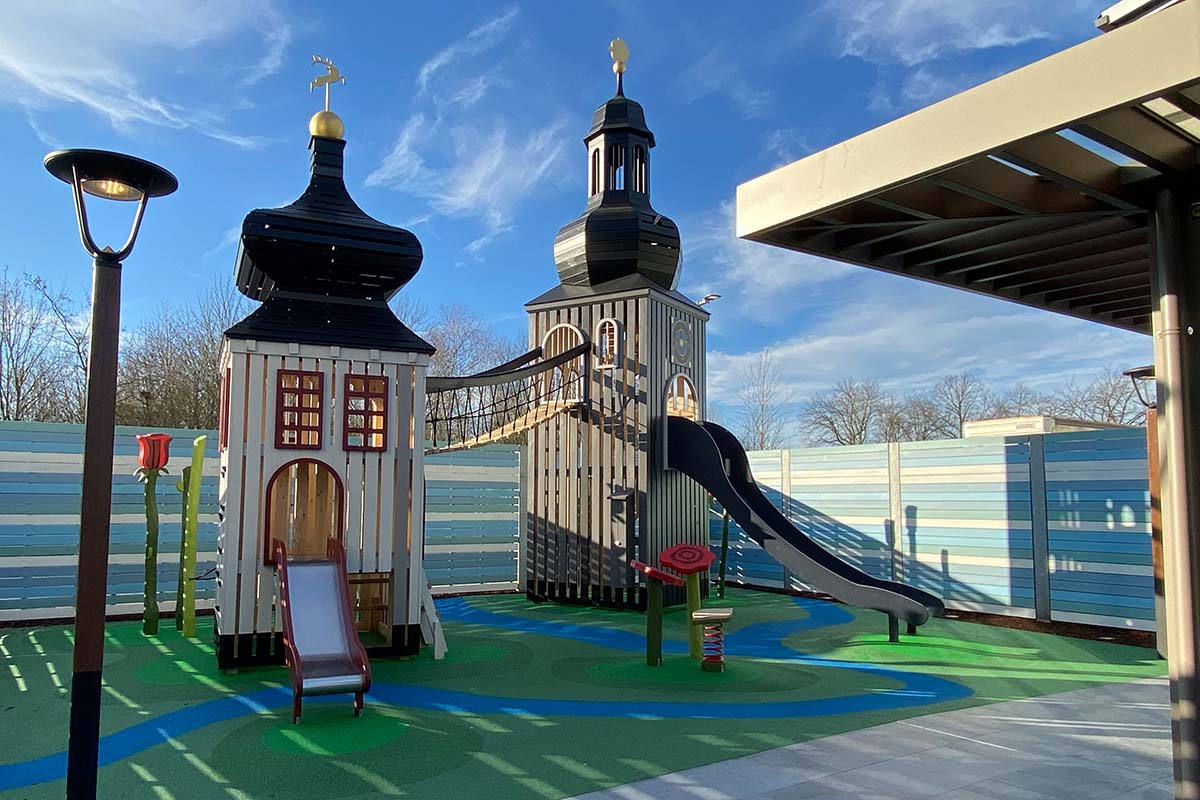 We have just opened a new playground in Zweibrücken Fashion Outlet in December 2019, that shows two well-known towers of the town. We are currently working on several projects in Germany, and we can't wait to open more.
Thank you, Mr. Nielsen, for the interview. We are looking forward to more inspiring playgrounds from MONSTRUM. Discover more MONSTRUM playgrounds at Spielplatztreff.